Design Switches and Sockets with Frames Made from Noble Materials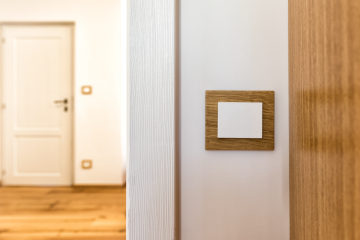 Technical parameters are no longer the only criteria when choosing household switches and sockets - their design also plays an increasingly important role nowadays. What used to be perceived solely as a functional element without any aesthetic aspect has become a detail that highlights the face and harmony of the entire interior. Typical plastic frames of household electrical installations are therefore receding into the background and are gradually being replaced by more noble materials - glass, wood, or metal.
The DECENTE collection of household switches and sockets offers natural noble materials and perfectly slim visual frames.
Natural Veneer
Natural wood is a constant in Czech interiors, and its popularity has not diminished with time – quite the opposite! Besides cottages and log cabins, it is increasingly being incorporated into urban apartments, and therefore, it must not be absent even from switches. DECENTE wooden switches and sockets are made from MDF board with natural veneer. The surface is treated with lacquer, preventing any warping, and the material remains sturdy. The DECENTE collection offers the charm of wood fibers in shades of oak, walnut, and mahogany.
| | | | |
| --- | --- | --- | --- |
| | | | |
| Wooden frame, mahogany | Wooden frame, wallnut | Wooden frame, oak | Wooden frame, oak |
Timeless Glass
One of the modern and not yet quite common materials for frames of household electrical installations is glass, which lends a truly luxurious appearance to switches. DECENTE glass switches are made from pure glass, with a layer of durable, color-stable lacquer applied to the underside, providing high resistance to abrasion and other damage. The DECENTE range offers a total of eighteen shades for glass frames, including four in a trendy matte finish and two with a mirrored effect. Glass frames are characterized by their design purity and timeless look.
| | | | |
| --- | --- | --- | --- |
| | | | |
| glass frame, white | Glass frame, black | Glass frame, mocca | Glass frame, indigo |
Minimalistic Metal
Glossy stainless steel or matte aluminum – that's the appearance that designer switches from the DECENTE collection can take on. Enthusiasts of minimalist interiors will appreciate the impressive metallic elegance of their frames. The stainless steel and aluminum frames of the DECENTE series are made from genuine metals – they are not just surface coatings or imitations. The metal used on the frames of household electrical installations is a highly design-oriented element and perfectly complements the clean lines of the DECENTE series.
| | | | |
| --- | --- | --- | --- |
| | | | |
| Aluminim frame, switch | Aluminium frame, PC socket | Stainless steel frame, switch | Stainless steel frame, socket |
The frames can be combined with white, black, or four metallic shades of central control covers, which are made from high-quality, highly durable, UV-stable plastic. However, the DECENTE collection's advantage is not only its wide range of materials and color options – the subtle frames, with a thickness of just four millimeters, are remarkably thin compared to typical visible frames that are around ten millimeters thick. Thanks to its specific design, the DECENTE frame is also slightly recessed from the wall, creating an impressive 3D effect.