How to effectively incorporate switches and sockets into an apartment?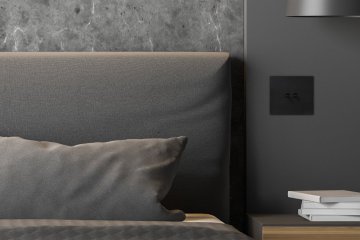 During construction or a complete reconstruction, you will, of course, have to address the issue of switches and sockets sooner or later. Advice on what to watch out for, as well as tips on trends, are provided by their Czech manufacturer, OBZOR Zlín.
Everything planned?
When considering the future placement of switches and sockets, it's essential to plan ahead during the residential space planning phase, preferably in collaboration with the designer. If you know all the details in advance, you can avoid issues with an excess or a shortage of switches and sockets. Additionally, keep in mind that not all switches have the same depth for their switching mechanisms. For standard residential switches and sockets, installation boxes with a depth of 30 or 42 millimeters are commonly used. However, some switches may require deeper installation boxes, even up to 60 millimeters. Therefore, it's recommended not to postpone the selection of switches and sockets until the interior is finished, to avoid having to make changes to already completed walls. Due to the variety of products and frequent changes in electrical installations, it's advisable to install deeper boxes from the outset.
How high should sockets and switches be placed?
The selection of the placement of switches and sockets is a purely individual matter for each interior, but certain rules also apply here. It is practical to place switches right next to doors at a height of about 120 centimeters (measured from the floor to the center of the switch). Sockets are typically installed at a height of 20 to 30 centimeters above the floor. In the case of sockets located above a working surface, such as in the kitchen or at a desk, approximately the same height as switches is recommended. Specific rules dictated by standards apply to the placement of electrical installations near a water source, for example, in the bathroom or kitchen.
Functionality and design in one? No problem!
The selection of switches and sockets is guided not only by technical parameters but also by design, which plays a significant role. The VECTIS series brings back the possibility of toggle control, which was quite common in the past, now presented in a modern minimalist spirit. VECTIS switches can be equipped with one or two toggles that switch vertically. The VECTIS collection features an elegant aluminum panel with simple rectangular lines, making it a great fit for retro interiors as well as those designed in a modernist style. The aluminum frame is available in two colors, white and black, and you can also choose the toggles in the same color options.
TIP: VECTIS series switches and sockets can also be combined into a single frame, called multiple frame, which combines practicality and an minimalistic appearance. In the VECTIS series, switches and sockets can be arranged horizontally or vertically, up to a triple frame.
How to ensure the safety of sockets and switches?
Don't forget to pay proper attention to regulations related to sockets and switches as part of safety measures. Poorly executed electrical installations can pose health risks and endanger your property through short circuits and subsequent fires. We recommend involving an experienced professional to address the issue of switches and sockets. They can suggest a work plan and provide advice on the necessary equipment, including recommendations for the type, number, and placement of switches and sockets. In the case of renovations, they can also inspect the condition of the existing electrical installation and propose the extent of changes needed. When renovating an older building, you may be able to utilize existing wiring to connect new switches and sockets, but this should always be done under professional supervision. It's generally advisable to replace old wiring with new in order to ensure safety.