Round RETRO Switches Inspired by the style of the Czech First Republic Era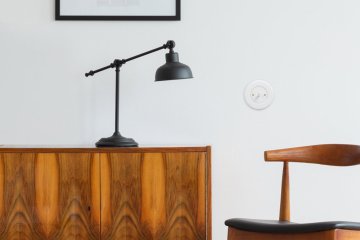 Have you find yourself in a retro-style setting, where the sound of a record player fills the room, and from the comfort of an armchair with slanted legs, you indulge in the nostalgia of childhood? Yet, something is missing for complete contentment. Focus on the detail. Formerly functional elements now serve the purpose of refining the interior design to perfection. We're talking about household switches, which are an integral part of every interior. And it's precisely those from the RETRO collection that will transport you back by decades.
Retro inspired by tradition
Do you embrace the older style typical of previous generations, or do you prefer retro in a modern interpretation? In both cases, you can furnish your interior exactly according to your preferences. Interior element manufacturers have expanded their range to include unconventional pieces that correspond to both of these styles. And this trend has not spared household switches either. RETRO switches and sockets not only evoke the appearance of old times but also the characteristic click sound, which they have inherited from their First Republic predecessors. This sound effect has been achieved using electro-mechanical components from traditional industrial cam switches.
Rounded Retro
The antique style demands precise replicas of everything that was commonplace back then. And the same applies to switches and outlets. The design of the RETRO series is classically round, evoking the sense of a true First Republic appearance. The specific construction of the switches allows for an unusual control by today's standards - the lighting and characteristic sound are triggered by turning the knob in the middle of the switch. With each turn of the knob, these round switches imaginarily transport you to the golden era of the First Republic.
Ceramics, wood, concrete, and glass!
The round RETRO frame is available in two fundamental materials that epitomize the earlier style – ceramics and wood. Ceramics can be obtained in black or white versions, while the wooden options come in beech, maple, and light or dark stained oak finishes. Yet, even enthusiasts of retro in a modern interpretation will find something for themselves – the RETRO collection with concrete and glass frames is tailor-made just for them! The frame crafted from a special concrete blend breaks all barriers and establishes an entirely new style for switches. However, the round shape of RETRO frames also beautifully highlights the timeless beauty of glass, imparting a luxurious appearance to the switches. The colorfulness of the glass frame in neutral white and black shades is ensured by a high-quality colored lacquer on the underside, which is resistant to wear and guarantees a consistent hue. Glass, presented in this manner, exudes a very clean and delicate impression.
| | | | |
| --- | --- | --- | --- |
| | | | |
| Ceramics frame | Maple frame  | Concrete frame | Glass frame |
TIP: Hand-painted switches.
For enthusiasts of Moravian folklore, the new hand-painted RETRO switch collection is a true delight. The unique novelty includes ceramic retro switches with frames featuring hand-painted motifs inspired by folk patterns. The ceramic is hand-painted, making each piece an original. The glaze is then fired in a kiln. This is a specific type of pottery production called "fajáns," sometimes also referred to as majolica, typically characterized by plant and heraldic motifs depicted on a white background with four basic colors – yellow, green, blue, and purple. The offering includes four traditional Haban-style patterns. Each piece is a unique creation, not just for cottages but for any setting!
| | | | |
| --- | --- | --- | --- |
| | | | |
| RETRO switch, Haban-style. | RETRO switch, Slovac-style. | RETRO switch, Tupesk-style I. | RETRO switch, Tupesk-style II. |
The Retro Collection Meets the Demands of Modern Times.
However, the RETRO collection doesn't only include switches. Besides these, the round frames also offer sockets, a modern LED dimmer, thermostat, and communication sockets with USB, HDMI, TV, and SAT connections. Unifying your home electrical installation throughout the entire interior is no longer a challenge.
RETRO switches and sockets will seamlessly fit into interiors of rustic, vintage, and industrial styles. Enjoy their design every day!
You can view photographs of the complete switches and sockets from the RETRO design collection here.